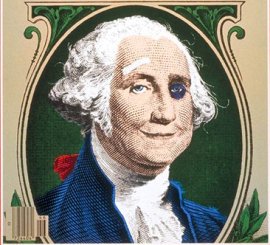 Uh oh. It's late at night (actually early the next morning) and I've been up since the previous morning very early. I feel the urge to ramble a bit...
Some personal thoughts on the economy.
Have you been overseas lately? Have you at least been to Canada...lately??? Our dollar is seven cents short of the Canadian dollar (as of yesterday in Grimsby, Ontario where I ate dinner and paid with Yankee dollars), and I could swear I saw Washington's face blush when I opened my wallet. Although I'm still relieved we elected Bush over Kerry and Gore, there are certain things that have been left woefully unattended. This is one of them. The other is Central and South America. More on the latter some other time...
I received my STIMULUS rebate money of $600, directly deposited into my checking account last week. Aren't we lucky the Fed doesn't send it to us in those awful
rebate Visa check cards
like AT&T? Anyway, the money will stay in my bank account until the Bush tax cuts run out and my taxes go through the roof again. Really, I don't get those Democrats bragging about giving us stimulus money one moment (to jump start the economy) and then pledging to overturn the Bush tax cuts (to kill the economy again) the next moment. At best it's a wash, right?
Fuel costs are running amok and are expected to go higher. So I went to my storage room and fetched my
Schwinn Super LeTour 12.2
(that's 12.2 Kg, which was light for a ten-speed bike in the late '70s) . It has been sitting there collecting dust for 13 years, waiting for the right moment to spring into action. The tires are flat and it smells funny, plus the seat is...well...let's say it's outdated for me. I'm 44 years old and so is my
prostate
, so I will update the seat with something more...broad and cushy. So rather than make one car trip to the grocery store, I'll get lots of exercise with several bicycle trips there and back, while wearing a backpack.
Don't forget to call your Mothers today. But wait until a decent hour to do so.
(Dollar portrait borrowed from Digerati Life)